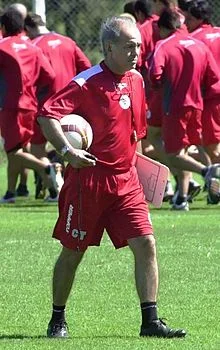 Argentina coach Alejandro Sabella has described Brazil' scandalous 7-1 loss to Germany as an unusual phenomenon in football, saying that was unpredictable and beautiful for the game of football.
The Albiceleste team had to stop preparations for their own game against the Orange boys to watch Germany humiliate Brazil on Tuesday night.
Sabella believes that the outcome of the game for Brazil showed that no team is immune from such results.
"I saw the first half and just a small part of the second half... 7-1 is not a normal result between two powers in world football," Sabella told reporters at the Corinthians arena.
"It happens rarely so it is not a normal result, undoubtedly. It's football. I would explain it by saying it is the most illogical of all sports ... but on the other hand that's what makes it so beautiful."
Sabella added that they saw the game in bits,but that it gave his players and idea of what to expect.
"The players had the idea of watching the match, to continue watching the match, because the first half we saw at the hotel and we saw the end of it here," he said.
"Since we were going to have light training, we thought that coming out at that time gave us sufficient time to do what we needed to do," he added.
Last edited by a moderator: