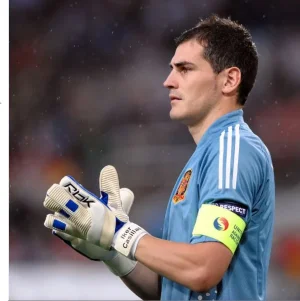 Spain and Real Madrid goalkeeper Iker Casillas has taken responsibility for his side's embarrassing loss to the Netherlands in Salvador on Friday evening.
The Orange Boys defeated Spain 5-1, who are defending the title they won in 2010 in Africa, thereafter winning the European title in 2012.
Casillas, who was left in no man's land by a stunning Robin van Persie header in the 44th minute, made his 155th appearance for La Roja in their disastrous start to defending their title and admitted that he wasn't at the required level.
"I wasn't at the level I needed to be. I have to accept all criticism," Casillas said.
"I didn't do things like I should have, especially to start a World Cup.
"It wasn't one of my best games," added the Real Madrid shot-stopper.
Vincente Del Bosque, however, refused to place the blame on any individual, especially not on the 33-year-old Casillas.
"When a team loses a match it's not just the performance of one single player, its a weakness in the total squad," Del Bosque said.
"We can't blame anyone, least of all Iker Casillas."
The Spain boss also praised Louis Van Gaal's men for a sterling performance and took no shame in congratulating their 2010 Final rivals.
"It is not a happy moment, but first of all I want to congratulate the Dutch team, who were superior to us."
Last edited by a moderator: