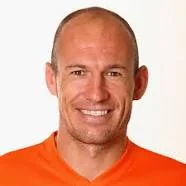 Netherlands and Bayern Munich forward Arjen Robben has backed Germany to win the 2014 FIFA World Cup on Sunday at the Maracana Stadium in Rio De Janeiro.
Robben believes that : "Argentina will be no match for European rivals Germany" when both teams meet in the final.
Argentina defeated Holland 4-2 after penalty shootouts,while Germany trounced Brazil 7-1 to qualify for the final.
The Dutch forward feels the Albiceleste does not have what it takes to lift the trophy against a dangerous and well-organised German outfit.
"Germany's going to win the World Cup," said the 30-year-old. "No doubt about that.
"The Argentines will not stand a chance."
Further speaking on why they didn't make the final,Robben said that luck was against them on the night.
"Penalties are not only a game of pure chance - we've shown that against Costa Rica," said Robben.
"We did a very good job there, and were really successful.
"It didn't work out today during the penalties. We also had some bad luck but, sadly, that's part of football."
However, Robben said he is still proud of his team's run at this year's global showpiece.
"I am incredibly proud of what we have achieved," he said.
"We presented ourselves really well."
The Netherlands battles host nation Brazil in a play-off for third position in Brasilia on Saturday evening.
Photo Credit: FIFA .com
Last edited by a moderator: