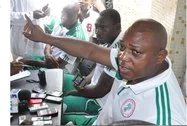 Super Eagles coach,Stephen Keshi, has again reiterated that his approach to this World Cup is for his boys to attack take each match one at a time as the African Champions launch their 2014 FIFA World Cup campaign against Iran in Curitiba on Monday.
Keshi explained that each team has a unique way of play and that it will be easier for the team to focus on the other matches as they come, one after the other.
"Today as I speak, I know we are going to play Iran on June 16. There are two other matches in the group phase, against Bosnia-Herzegovina and Argentina, but our focus for now is what we must achieve against Iran in Curitiba."
The 52 –year old, who won the AFCON trophy in 1994 with the Nigeria senior squad and played through the pain barrier to lead the team to qualify for its first Fifa World Cup finals, in Algiers in 1993, also insisted that the Eagles have serious ambition to do Nigeria and Africa proud here in Brazil.
"There would have been no reason to take part in the qualifying series if we didn't believe we would make it to the finals, and there would have been no reason to prepare so hard for the finals if we knew we were only coming to Brazil to make up the number.
"I have a group of players who believe in themselves. They want to go as far as they can in Brazil, and the formula we will employ is to look at what is immediately in front of us and focus and plan on how to tackle it."
The former Mali boss explained that Eagles were already dreaming of playing in the quarter final against Brazil before playing Denmark in the Round of 16 at France '98, and also fell to inexperience in the past, coming within one hundred seconds of a famous defeat of Italy and berth in the quarter finals in 1994. These he said were wrong approaches to playing football
"Both situations were unfortunate. That is why you must always focus on your immediate challenge. We definitely lost to inexperience in 1994. Here in Brazil, we have a mixture of youth and experience. We are ready to fly," Keshi was quoted as saying on KickOffNigeria.com
Last edited by a moderator: