Leicester's wait for a first top-flight title came to an end on Monday night as Tottenham drew 2-2 with Chelsea.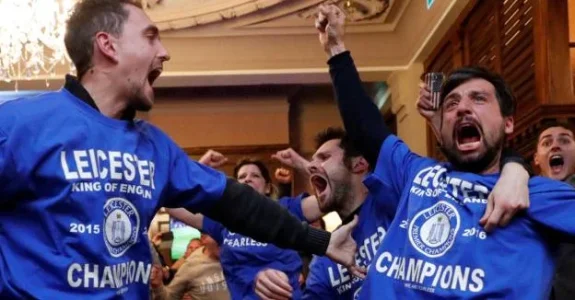 The news was greeted with jubilation by supporters of the club and admiration from footballers, sportsmen, politicians, celebrities and beyond with Twitter reporting an 86 per cent increase in normal activity in the UK.
Here are some of the famous faces who've been reacting to one of the most unlikely triumphs in sporting history...
David Beckham on Instagram:
"Wow, who would have known that a few years on from his dad winning Premiership after Premiership that Kasper would lift the same trophy....What an amazing moment for a team that many people have said 'what a surprise' - but out of any team this season Leicester deserve this moment."
Barcelona superstar Lionel Messi on Twitter:
"The reason why we all love football. Congratulations"
Real Madrid and ex-Spurs star Gareth Bale on Twitter
: "Gutted for @SpursOfficial but congrats to @LCFC, amazing season!! Love Football."
Prime Minister David Cameron on Twitter:
"Many congratulations to Leicester. An extraordinary, thoroughly deserved, Premier League title."
Matteo Renzi, Italy's Prime Minister, on Twitter:
"It's the greatest achievement in the history of English football, and it was led by an Italian#insane."
Kasabian guitarist and Leicester fan Serge Pizzorno:
"Winning the Premier League? After that, even if we get relegated and we're in the Conference in 10 years, I won't care. We'll always have that."
Pop superstar Adele said:
"Proud of you Spurs but Leicester....what an inspiration. The best story ever. Congratulations."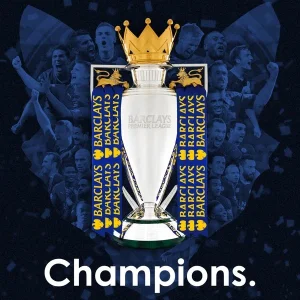 Chelsea captain John Terry:
"Congratulations to Leicester because they have been superb this year. The rivalry with Tottenham means a lot but that still hurts us tonight losing the league title after the way we won it last year. It hurts passing the Premier League title to Leicester but credit to them, they've been superb. We've not been good enough but we'll be back next year."
Liverpool striker Mario Balotelli on Twitter:
"Leicester city.. champion. Congratulations to the players and to an amazing manager as RANIERI!"
Peter Schmeichel, father of goalkeeper Kasper, on Twitter:
"Congratulations to @kschmeichel1 and his @LCFC teammates for winning @premierleague."
Former Chelsea midfielder Frank Lampard on Instagram:
"Up the Chels! Top finish from @hazardeden-10. Huge congrats to everyone at Leicester and particularly Claudio Ranieri. A gentleman who changed my life. #Ranieri #chelsea"
Former Chelsea and Real Madrid manager Carlo Ancelotti on Twitter:
"Congratulations to both Leicester and my friend Claudio Ranieri for their historic win of the Premier League."
Manchester City striker Sergio Aguero on Twitter
: "Congratulations are due for Leicester City, deserving champions of the Premier League!"
Manchester City captain Vincent Kompany on Twitter:
"Congratulations to the new Champions of England, Leicester City. Respect."
Former Man Utd and Arsenal striker Robin van Persie on Twitter:
"Congratulations to Leicester City on winning the Premier League! What an incredible achievement!"
Leicester mayor and lifelong fan Sir Peter Soulsby: "
When we were burying a king they were seven points adrift at the bottom and here we are just over 12 months on and they are Premier League champions. It's hard to believe."
Source: Skysports