About five Nigerian students were attacked on Monday by crowds, while another was beaten by a mob inside a shopping mall in Noida, near Delhi.
The attacks were prompted by the death of a local teenager due to a drug overdose. His parents blame Nigerian students for giving him the drugs.
India's Foreign Minister Sushma Swaraj has promised an "impartial" inquiry into attacks on Nigerian students living
"five people have been arrested over the attacks", BBC quoted the Police.
Ms Swaraj said she had spoken to Uttar Pradesh Chief Minister Yogi Adityanath, and he had assured her of a "fair and impartial investigation into this unfortunate incident".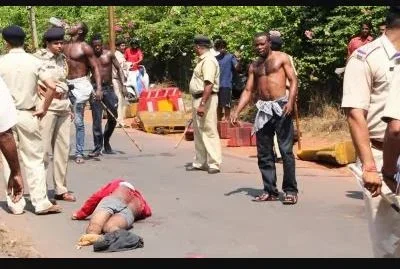 The attack on the student inside a popular shopping mall in Noida was recorded on mobile phone cameras by other shoppers and widely circulated on social media.
The victim told Indian reporters he had been beaten with rods, bricks and knives. He said that no one had helped or even called the police.
Senior Special Adviser to the President Muhammadu Buhari on Foreign Relations & Diaspora, Abike Dabiri said the Nigerian High Commission is on the matter and will issue a statement soon.
"On the issue of Nigerian students attacked in India, the Nig HC is on it while the MFA will issue a statement soon", she posted on her twitter timeline.