The National Association of Nigerian Students (NANS) on Thursday staged a protest to the South African High Commission in Abuja where they also burned the country's national flag.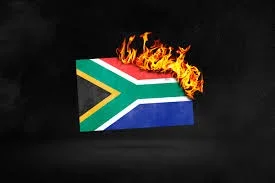 The students, led by their president, Aruna Kadiri, moved from the popular Unity Fountain to MTN office in Maitama and Multi-Choice office located at the Central Business District to protest against the renewed xenophobic attacks on Nigerians in South Africa.
The protesting students also issued a 48-hour ultimatum to the South African nationals to leave Nigeria.
They also urged the High Commission officials to cancel the dinner organised in honour of Regina Tambo, the co-founder of ANC Youth League.
At the ministry of Foreign Affairs, the students urged the government to take concrete action to protect Nigerians in South Africa.
Kadiri, while addressing newsmen, said "We are demanding that they should break the ties between both countries if there's any because the xenophobic attacks that had happened long time ago has come again.
"We have decided to clear the madness with madness."
He said they burned the South African flag at the High Commission to pass a message that "we don't have relationship with them any longer."
"Within 48 hours, all South Africans in Nigeria should leave or else, we won't be able to guarantee their security anymore," Kadiri said.
Responding, the spokesperson of Nigeria's Foreign Affairs ministry, Clement Aduku urged the protesting students to be calm as the federal government is currently engaging in talks with its South African counterpart over the xenophobic attacks.
He also assured that all diplomatic means would be explored to stop the killings of Nigerian nationals in South Africa.