Out-going President, Yahya Jammeh has ordered military hardwares all over the streets of Banjul, the national capital and other parts of the tiny West African nation.
A Gambian, Mrs Fatou Abdoulaye who arrived Calabar in Nigeria said the build up is at the instance of President Yayha Jammeh who lost the December 1, 2016 presidential election.
Fatou, in her 50s and a private citizen, said a good number of Gambians and foreigners including Nigerians resident in the country have fled out of fear that there could be military action either by ECOWAS against the beleaguered regime of Jammeh, or Jammeh himself could decide to attack ECOWAS citizens and interests.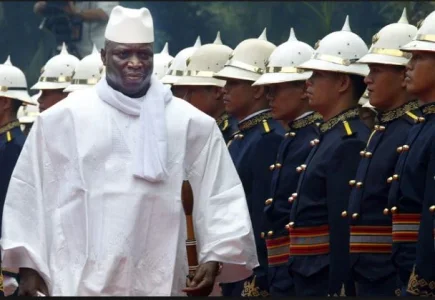 TRENDING:
Gambians Run Out Of Country As Jammeh Refuses To Step Down [See PHOTOS]
She appealed to Nigeria and other countries to help her country urgently.
"We appeal to Nigeria and other friendly countries to kindly help our country. Jammeh is clinging to power by force.... Half of the country's population have left the country for fear of blood shed"
Source: DailyTrust