The All Progressives Congress (APC) says former Vice-President Atiku Abubakar and Peoples Democratic Party (PDP), his party, represent the "wasted past" that Nigerians have chosen to correct.
The ruling party said this in reaction to Atiku's charge to the PDP on rebuilding itself rather than focusing on the 2023 elections.
In a statement on Sunday, Lanre Issa-Onilu, APC spokesman, said the rebuilding of the opposition party must begin with the return of the resources allegedly stolen by it.
Issa-Onilu said Atiku was "anything but sincere in his advice."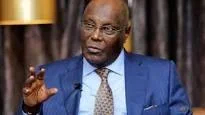 read more