Chikezie Amaranna (pictured left), was allegedly stabbed to death by his neighbor (right) on the 9th of July following a disagreement over electricity connection in their compound.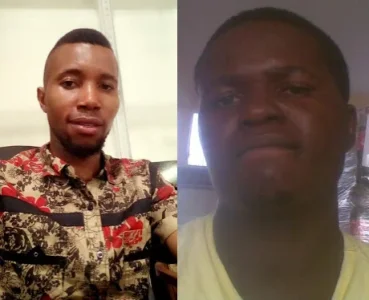 A close friend of the deceased, Ifeanyi Osondu, who spoke to Daily Sun on the tragic incident, described the death of Amara, who planned to build a career in the Nigerian Air Force, as agonizing.
According to Osondu, he and Amara arrived the later's compound around 9:20pm on that fateful day only to see that his apartment was the only one without electricity.
"We left work after our shift that night and got to Amara's house; he saw that his house was in darkness, so he walked up to his nearest neighbour, Chibuzor, and inquired why his house didn't have power. Chibuzor told him that he (Chibuzor) cut his apartment off from the electricity source because a new neighbour was 'tapping' electricity from his room."
Amara asked Chibuzor to go and fix the light immediately, but the latter insisted he would not take orders from Amara particularly if he continued raising his voice at him.
"I asked Amara to calm down and take it easy, because I saw how angry both of them were. I already knew where the argument was leading to, so I asked Amara to follow me down the street to buy suya for us to eat; Amara then told Chibuzor to fix the light before he returned home. We went out and got suya to eat, at about 10pm, but we came back home and the light was still not connected. So, Amara got angrier and went and confronted Chibuzor; they started exchanging words and it became a fight. Some neighbours that were present joined me and we tried to separate them.
"It was more difficult than I thought, because both of them were angry and that made the separation even harder. We finally got them to calm down. I took Amara to his doorstep, while the other people took Chibuzor to his doorstep. I opened the door and pushed him inside but, unknown to me, there was a back door in the house. Amara took off with a shovel through the back door and ran after Chibuzor for the second time that night."
The witness said he could not tell how Chibuzor also left his room, but the next thing they saw was the two young men locked in another round of fighting.
"Before I could turn around, I saw Amara running back to me. He was mumbling, 'See what Chibuzor did to me,' he muttered it a number of times before he fell down.
"Chibuzor had stabbed him with a knife; I think about three times, I am not so sure."
Osondu explained that it was difficult to get the victim to hospital as it was already late in the night.
"Every cab man we saw refused to carry him after seeing blood and an unconscious body. We finally found a man who was on his way from vigil; he agreed to help us. We bundled him into the car and went to the hospital; but around 4am or thereabouts, I got a call from the hospital that my friend had died."
The suspect has been arrested and the police are conducting investigations.