An 11-year-old boy was charged with a hate crime after he was caught on security cameras setting fire to a Jewish school bus in Brooklyn.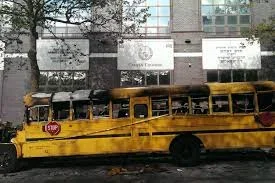 Police say the adolescent and four other boys, ranging in age from 10 to 15, set the Yeshiva bus ablaze on Brooklyn Ave. near Lefferts Ave. in Crown Heights shortly before 6 p.m.
Security video, obtained by the website CrownHeights.Info, shows the five children running into the bus with pieces of cardboard. Flames appear towards the front of the bus within seconds as the kids pile out.
Within minutes, thick black smoke engulfs the yellow bus, which was parked outside Beth Rivkah, a private girl's school, the video shows.
Neighborhood residents said they were saddened to hear that a hate crime may have been perpetrated by such young boys.
The boy has been arrested as the other four are still at large.
Police confirmed that no one was injured in the fire.
PHOTOS BELOW: