Two persons were killed in Okemesi on Christmas Eve in Ekiti West Local Government Area of Ekiti State after a nine-man armed robbery gang attacked an old generation bank, Dailypost reports.
The heavily armed men, who carted away millions of naira, also injured scores of residents, killing Matthew and a carpenter, Ayo Alawode
One of the robbers reportedly disguised on arrival as a resident and joined others at a news stand close to the bank before other members of the gang arrived in a Toyota Sienna space bus.
An eyewitness explained that bank customers, who queued up at the Automated Teller Machine (ATM) gallery were marched into the banking hall by four of the robbers, while the remaining gang members stood guard outside.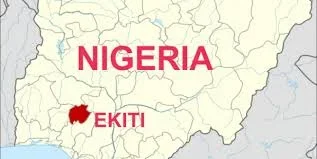 The source said: "Immediately, those in the bank hall realized that one of them had been shot; they thought it was done by a policeman and they quickly ran out.
"When they got outside and knew that the police were yet to arrive, they immediately shot the carpenter and the security guard. This provided the opportunity for the customers held hostage to escape.
Ekiti police command spokesman, Alberto Adeyemi, confirmed the killing of the two persons during the robbery operation.
He added that the command had launched investigation and expressed confidence that the culprits will be arrested "very soon."