The Senate Committee on Housing and Urban Development has alleged the presence of a strange vote to the tune of 2 Billion naira in one of the estimates for the Ministry of Housing.
According to PUNCH reports, indications emerged that the budget padding mess which occurred in the 2016 budget is set to repeat itself this year.
On Tuesday, the Minister of Power, Works and Housing, Mr. Babatunde Fashola (SAN), who appeared before the committee to defend the ministry's budget denied knowledge of N2bn allocated to Regional Housing Scheme in the 2017 budget proposal of the ministry.
Fashola said the addition may have come from the Ministry for Finance.
The item was numbered FMOW99934089.
The Chairman of the committee, Senator Barnabas Gemade, while asking Fashola to explain the insertion, resolved that the Minister of Finance, Kemi Adeosun, be invited.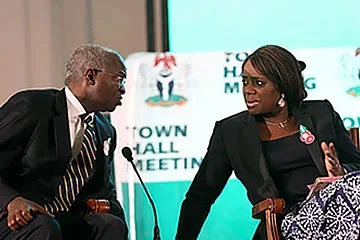 The following conversation ensued between Fashola and Gemade:
Gemade
: Finally, what is this provision of N2bn for regional housing scheme? What is regional housing scheme? Where is it taking place? What is happening? Have you seen it on Page 18?
Fashola
: It is not our project. It came in from, I think, the Budget (Office). It is a Ministry of Finance initiative; saying that they want to do what they called 'family homes'. It is not from us.
Gemade
: Yes, but they have put it here; otherwise, we will not be in the position to accept it.
Fashola
: I know as much of it as you do sir.
Gemade
: But you are here to defend this budget in totality.
Fashola
: That is why I have come. I am explaining to you now, sir, on how it comes into our budget. That is not what we submitted. We didn't submit that proposal.
Gemade
: So, will the ministry be kind enough to tell the people who put this in this budget to come forward and let us know?
Fashola
: Please.
Gemade
: Let us know what is regional housing programme because government cannot be operated in secrecy.
Fashola
: I think the committee, if you permit me to bring this suggestion…
Gemade
: …should invite them?
Fashola:
Yes, sir.
Gemade
: But you know the people; we don't know them.
Fashola
: No, sir. We just said finance sir.
Gemade
: Finance ministry?
Fashola
: Yes sir.
Gemade
: We will write to the minister.
Fashola
: Please do sir.
Gemade
: (Pointing to the committee's secretariat) Write to the minister: We have seen this line, which costs N2bn. Let them send information here for us to know what it is all about.
Credit: PUNCH