At least 30 people, most of them children died after a school bus fell into a gorge in a mountainous region of India.
Most of the passengers were below the age of 10, police said. The bus driver and two teachers were also killed in the accident on Monday evening. The incident occurred in the northern state of Himachal Pradesh.
Road accidents are common in India, often due to poor driving or badly maintained roads and vehicles. Yesterday's accident, which occurred about 325km (200 miles) from the state capital, Shimla, involved a bus transporting some 40 students from Wazir Ram Singh Pathania Memorial school in Nurpur in the country's Kangra district, according to officials.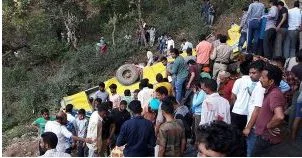 Read more via The Sun News –
https://ift.tt/2ExGJhP
Get more
World News
Last edited by a moderator: