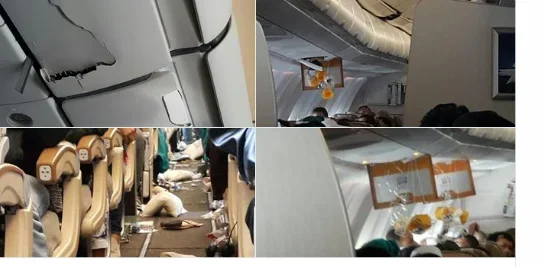 Severe turbulence on an Etihad Airways flight to Indonesia left 31 passengers injured on Wednesday, CNN reports.
Flight EY474 from Abu Dhabi to Jakarta encountered severe and unexpected turbulence about 45 minutes before its arrival at Soekarno-Hatta International Airport, the airline confirmed in a statement.
The A330-200 Airbus landed safely at the airport in Jakarta, where nine passengers were taken to hospital. 22 others have been released from the airport clinic after being treated by paramedics for minor injuries.
Cabin storage areas were also damaged as a result of the turbulence. Twitter user
@NasserRomaithy
posted photos of a hole in an overhead luggage bin and dangling oxygen masks that were purportedly taken by a passenger.
Source: CNN