The Nigerian senate on Wednesday called for the resignation of Hameed Ali, comptroller-general of the Nigeria Customs Service (NCS).
The senate also declared Ali unfit to hold public office and condemned a letter written by Abubakar Malami, attorney-general of the federation (AGF).
Here are seven Senators that participated at today's plenary:
1.
Senator Biodun Olujimi
representing Ekiti south senatorial district has said that the action of Nigeria customs, Hameed Ali is a breach of Constitution and a grand display of arrogance.
2.
Senator Abaribe Enyannaya
representing Abia south senatorial district said Customs Boss, Hameed Ali made an obnoxious policy, it was in this process that we invited him to explain his policy.
He stated that it makes no sense for the CG @CustomsNG to rush to court to secure a deliberate injunction over his invitation by the Nigerian Senate.
Related:
'Hameed Ali Is Over-aged, Unfit', Senate Demands Resignation Of Customs Boss
3.
Senator Dino Melaye
Representing Kogi west Senatorial District on Wednesday said the Comptroller General of Customs, Hammed Ali must appear before it in customs uniform.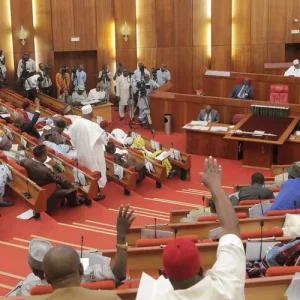 4.
Senator Isah Misau
said:"If the Attorney General can write a letter to the senate, He wondered what advise he gives Mr. President".
"Enemies of this Government are within the Presidency", he said.
5. Senator Aliyu Sabi
urged the Senate to cancel the collection of duty until a more robust method of collection can be agreed upon
6. Senator George Sekibo s
aid the letter from the Attorney General undermines the Senate as an institution and must be investigated
7.
Deputy Senate President, Ike Ekweremadu
said it is important that the integrity of the Senate must be maintained at all times.
"There's no big deal in asking a public officer to dress properly, people should be proud of what they do
"We as public officers should live an exemplary life and obey laws in accordance of the constitution".
TRENDING:
Nigerian Senate Approves Buhari's Request Of $500m Eurobond