Police in Oyo state have arrested a man who allegedly set his family house on fire, while the occupants were asleep. Five members of the family, four of them children, including an eight month old baby , died.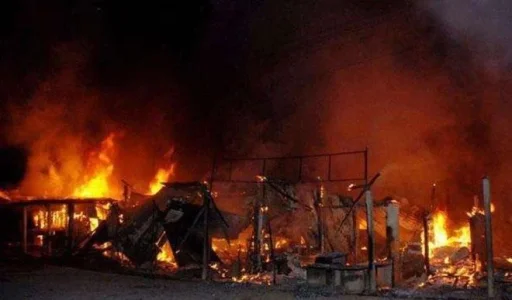 The incident happened in Budo Alaka village in Kisi area of Oyo State around 2.35 a.m on Sunday.
SP Adekunle Ajisebutu, the Oyo Police Public Relations Officer said five persons, namely Blessing Samuel Ode (3), Friday Samuel Ode ( 8 months), Mummy Ogbada 'f' (10), Daddy Ogbada (6) and Ogunma Ogbada (46) were burnt to death.
Ajisebutu said that there were two survivors, namely Samuel Daniel Ode (24) and Mariam Samuel Ode (21). They are receiving treatment at Muslim Hospital in Kisi.
He said that the suspect, identified as Monday Daniel, a 26 year-old, escaped from the scene but was later arrested by the police.
The Oyo PPRO said that the suspect upon interrogation confessed to the crime but claimed he did not know what came over him.
Ajisebutu told NAN that the case would soon be transferred to the Criminal Investigation and Intelligence Department, Iyaganku in Ibadan for further investigation
According to a witness account, the suspect had on the previous day approached a member of the family for some money to travel to an undisclosed destination. His request was turned down.
The suspect, was said to have been angered by the snub. He allegedly came back in the early hours of Sunday and set the the house on fire.
.
NAN