Abike Dabiri-Erewa, Senior Special Assistant to President Muhammadu Buhari on Diaspora Affairs, has blamed the lack of adequate sanctions for the thriving corruption in Nigeria.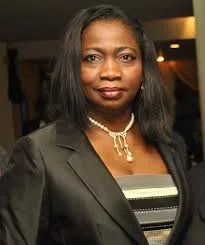 Dabiri-Erewa made the remark at the flag-off of South-West Women Against Corruption (WAC) project in Lagos; DAILY POST reports. She said: "The reason there is so much corruption in Nigeria is not greed but lack of adequate sanctions.
"As long as we see corrupt people go to jail, come out and we celebrate, we worship, we clap for them; corruption will continue to thrive.
"I think we are at a point where we need to say 'enough is enough! Never again should we go back to the days where we are coming from. Never again should we have anybody steal our commonwealth, live with impunity and get away with it.'
"That is why I want to appeal to you; let us support President Muhammadu Buhari's fight against corruption. For the first time, we are having a president who is fighting corruption headlong. We need to support him. I am ashamed that at a function today, when I said 'women against corruption', people shouted me down. But I say 'one bad apple should not spoils the whole bunch'
"We, as Nigerian women, are people of integrity, value, virtue, and valour. Most importantly, if we have contentment we have everything. If there's no contentment we will keep stealing until we steal our on hearts out. We need to raise our children with the virtues of contentment.
"As women and mothers of a nation, we can be agents of change. We can do it. Let us also support the EFCC chairman, Ibrahim Magu because; we love what he is doing. We hope the Senate confirms him because we know that he will earnestly fight corruption.
"Let us all support the WAC project. If we get it right, the nation gets it right. Let's support the fight against corruption and be determined that we will take Nigeria out of this recession, and this recession is corruption."
Do you agree with Dabiri-Erewa ? . Will corruption in Nigerian reduce if there were more sanctions?