PAN-Yoruba socio-political organisation, Afenifere, has dropped a bombshell for the Northern elders to prepare for a break-up of Nigeria if they continue to oppose the restructuring of the country to address the major challenges besetting it and hindering its progress.
A chieftain of the group and chairman of the defunct Presidential Advisory Committee of the 2014 National Conference, Senator Femi Okurounmu, said "there is no way we can continue to run Nigeria the way it is now without restructuring it."
"When the Hausa/Fulani people get power, they say the unity of the country is not negotiable. But if power slips from their hand, they are ready to break up the country.
"So, to prevent power from slipping from their hand, they will rather get their people in the military to take over so that the Northern oligarchy will continue to be in charge."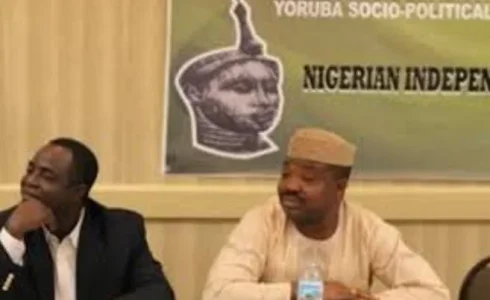 National publicity secretary of the Afenifere, Yinka Odumakin, said "the minimum requirement to keep Nigeria together is to restructure it. If we don't restructure Nigeria, it is clear at this point that Nigeria, as it is, is on its way out.
"It is those who are benefiting from domination and inequity that will not see this terminal crisis. If we don't do the needful, Nigeria, as a country, may not last too long. All the indices are very clear. So, it is only those who are profiting from inequity that will not see what is going on," he said.
In a swift reaction, deputy leader of the Northern Elders Forum (NEF), Paul Unongo, said the North was not afraid of any eventuality.
"I know these people that are talking and calling for restructuring. They shouldn't mislead the young people; we are not irredentists; we are democrats.
"If you want to destabilise the whole nation-state of Nigeria, then allow the North not to be developed, because it is easy for the kids to rise up and say 'no more.' So, we are saying that all Nigerians should be concerned about the development of the North," Unongo, Second Republic Minister of Steel, said.