Aisha Buhari, wife of the Nigerian president, has launched a three-day free medical outreach targeting about 7,000 women and children in Nasarawa State
The outreach is organised by the NGO run by the president's wife, Future Assured Initiative, in collaboration with wife of Nasarawa State governor's NGO, Tallafi Women and Youths Foundation.
"Our focus here is de-worming of a minimum of 3500 children to promote their health and growth. About 3500 women will also be screened for blood pressure, blood sugar, eye check, distribution of drugs as well as eye glasses," Mrs. Buhari said.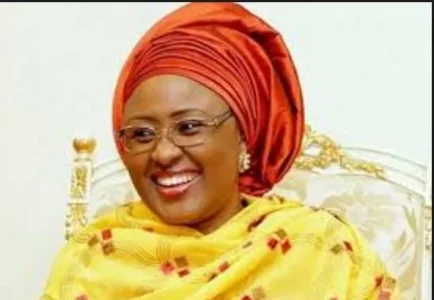 The president's therefore called on health stakeholders, including development partners to ensure that basic health care services were available and accessible to all citizens, particularly those at the grassroots.
Wife of Nasarawa governor, Mairo Tanko Al-Makura, said at the end of the projects, women, children and all citizens of the state would be screened to complement government's efforts of providing adequate healthcare services.
Governor Umaru Tanko Al-Makura, commended Mrs. Buhari for initiating the projects and appealed to the beneficiaries to maximally utilise the services and uphold the medical guidance offered them.