Nigeria at the early hours of Saturday was in great shock,when former Super Eagles coach and Technical Director of the Nigeria Football Federation, Amodu Shuaibu, died in his sleep in Benin City, Edo State.
His death came just three days after another ex-national team coach and close friend of Amodu, Stephen Keshi, died in the same town.
The former Super Eagles coach is survived by his wife, eight children, and an aged mother.
Amodu's eldest son Abdul-Aziz said his father gave a hint of his death during their last conversation on Friday.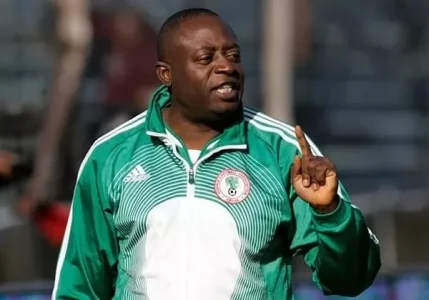 Abdul-Aziz, a 26-year-old graduate from Igbinedion University, Okada, said, "I am getting set for the National Youth Service Corps programme this month. So, I called him (Amodu) yesterday (Friday) to discuss with him but he didn't pick my call. He called back and told me that he was very busy. He promised to come to Okpella today (Saturday), so that we could see.
"He briefly said something about death when I asked about (Stephen) Keshi. He said Keshi was not buried immediately because he was not a Muslim. He told me that if he died he would be buried immediately. Then today, I got the news that he was dead," Amodu's son told PUNCH
Abdul-Aziz said he was shocked when he received the news of his father's death.
"We were not even told that he was taken to a hospital. He doesn't fast naturally. For the past few years, he stopped fasting due to his health condition. I don't know what happened this year that he decided to fast. When I asked him about fasting, he said he just felt like he could do it," Abdul-Aziz added.