On Tuesday, Annie Idibia , wife of popular Nigerians Singer, 2Face Idibia posted a cryptic post on angry women who use their kids against their father.
See post below: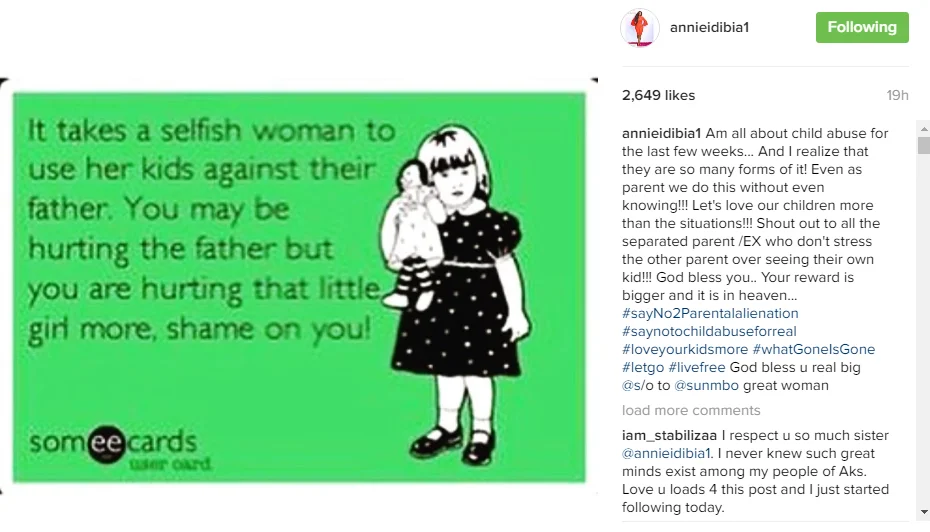 Hours after she put up the post, Eniola Titiloye, elder sister of Pero, one of 2face's baby mamas came online and posted a comment.
Eniola wrote: "How dare you Annie! Enough! Your cup is running full. If you want me to finish you here or on any media your fake career will come to an end.
''Do you think we have deleted all your evil messages concerning those 3 kids Do you want the world to know the truth on how you keep him from seeing his kids. Girl…..don't even go there with me! I am not hiding, I am Pero's only sister! The older one. This is clap back season and i am so in on it. How dare you throw a subtle shade?!. You think her keeping quiet means she is silly, you think she doesn't know how to use social media to aim fame? Leaving her life in the US quietly is because she respects her children, loves them and does not throw them on social media to score cheap points and cheap likes. You think you can trespass that territory You just crossed the line. If you think you are superwoman, I got the krypton items for your ass! #dontevengothere, #youaretreadingonscorpionstail #liar!!!''
''If you think you can start something just because he got away from your claws to throw a 10th birthday party for his daughter, you got something else coming your way. #liar #Igotyourtime #andforyourtrollstoo!''.