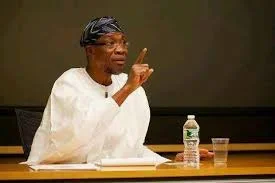 The Osun State House of Assembly has congratulated Governor Rauf Aregbesola on his 59th birthday. A statement by the Chairman, Committee on Information and Strategy, Olatunbosun Oyintiloye, said Aregbesola's stewardship has touched the people's lives despite the economic downturn.
The Assembly describes the governor as an amazing leader, who cares about the people's welfare, promising there are better days ahead.
It also pointed out that the governor is a dogged, committed, diligent and forthright man, who would fight hard to ensure the development of his state and the country at large, regardless of the challenges coming his way.
The All Progressives Congress (APC) has urged Aregbesola "to soldier on with courage, even at this difficult juncture when his political integrity is under mindless attack".
The party, through its spokesman, Kunle Oyatomi said "no matter how difficult the political, social and economic situation under his watch may be at the moment, all indications are that Ogbeni will emerge triumphant".
Source: The Nation