Apostle Johnson Suleiman of the Omega Fire Ministries on Sunday addressed the sexual allegations leveled against him.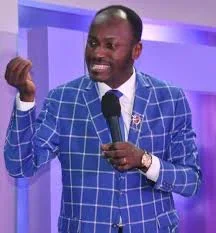 Preaching at the church's headquarters in Auchi, Edo State he dismissed the claims as false, saying the truth will be exposed in twenty-four hours.
He said, "God just told me something, 'That in twenty-four hours Marine will be disgraced publicly. I'm not just prophesying on you, I'm prophesying on myself. In twenty-four hours the truth will be exposed. The Marine kingdoms will be disappointed. I'm saying something else and He (God) is telling me something else, He (God) just whispered that to me now. He (God) said in twenty-four hours, kingdom of the waters and their representatives that made themselves available tools will be disgraced, and they shall know that I AM THAT I AM has sent me."
He said, "We don't fight with our mouth we fight on our knees. You can't do certain things and still carry the anointing we carry. No, we don't do that nonsense.
"If I am true or not true, real or not real – twenty-four hours. I'm tough, you can't bring me down.
"Don't you see me preaching? Do I look worried? Get a better agent.
"You know why we ignore some people, we don't want to make them popular. It's normal, you cannot fight the devil and he keeps quiet. And if the devil wants people to start doubting you, he attacks your reputation. We know this, and they won't stop, let me tell you the truth. One problem, because I said, 'Don't kill Christians'. That's all I said, and you come out doing drama, acting movie. You should have least gotten somebody that people will believe… look for a presentable, not this… come on… I have travelled round the world, I've seen all kinds, is it that…?"
See video: