The 27-man task force investigating the $2.1billion arms procurement scandal under the former National Security Adviser, NSA, have traced a whopping sum of N1trillion to the accounts allegedly owned by four EX- service chiefs, Nigerian Pilot reveals.
A highly placed source at the Economic and Financial Crimes Commission, EFCC, told Nigerian Pilot that the task force investigating the arms deals in conjunction with the financial intelligence unit of the EFCC found about N1trillion of the missing money in the accounts of four former service chiefs.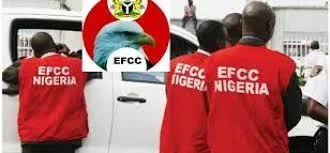 The money was allegedly paid into the military officers' accounts domiciled in four new generation banks. The source further said the affected service chiefs would soon be invited to explain all they know about the money found in their bank accounts as well as their involvements in the arms deals.
The former service chiefs were those in the Air Force, Navy and Army. Apart from the Service chiefs, it was further gathered that more retired and serving military officers are also being investigated by the anti-graft agency and those found culpable would be invited for questioning.
Recently, the EFCC picked up a serving Colonel and a German citizen in connection with the ongoing investigation into arms procured. Sources said the duo are currently detained in connection with the training of 750 Special Forces in Belarus in 2015. -
Source