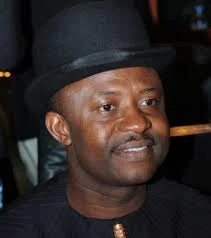 Nigeria's sports minister Tamuno Danagogo believes the problems bedeviling the country's football can be traced down to poor management structures.
It is a well documented fact that Nigeria has a penchant for pressing the self destruct button with bad administrative decision,which has been their greatest undoing.
During a meeting with the club administrators in Nigeria, Danagogo noted that he has been mandated by President Goodluck Jonathan to ensure that the football sector in Nigeria is totally reformed.
Danagogo further alluded to the fact of Nigeria not getting past the second round of a World Cup tournament as testament to the fact that some things are not right.
"It looks as if we are jinxed at the World Cup. We have never got beyond the last 16. We have got to that stage several times.
"If it is a jinx, we must break it. But I am sure that we have what it takes to get past that stage. What we lack is only management, our ability to manage what we have and put it forward. All the issues we have always had in our football center around the management of the game."
The minister also added that he met the NFF president Aminu Maigari where he outlined his concerns over management .
He also pointed to the fact that he was getting to grips on the knowledge of government interference in the running of football.
"When I came to this office, the first problem I solved was the intervention to stop the NFF from their decision to suspend Nembe City and Giwa FC from participating in the Nigerian Premier League.
"That was the first interference or intervention, as they would want to call it, from the sports commission.
"I have come to see that the distinction between intervention and interference is very little; you can never tell when your intervention will be referred to as interference."
"Yesterday I had a private meeting with the president of the NFF and I mentioned all these points before him.
Last edited by a moderator: