Minister of Youths and Sports, Solomon Dalung has reacted to the claims by the former World Cruiser-weight boxing champion, Bash Alli that he was brutalised at the expense of a foreign visitor at the office of Minister.
Reacting to Alli's allegation yesterday, the Special Assistant on Media to minister, Nneka Ikem Anibeze, described the text message as an unsubstantiated claim with intent to deceive the public.
According to the SA Media: "Ali came to see the Minister and was told to wait at the minister's waiting room with the 10 people who accompanied him.
She said: "Bash Ali barricaded the entrance to the office of the minister with the men who accompanied him as he questioned why the Hungarian Ambassador to Nigeria, Prof. Gabor Ternak would be allowed to see the minister while he, who came earlier was not given access.
"The uniformed security tried to persuade Alli and his men to leave the minister's secretary's office but to no avail. The boxer who was carrying a file and mobile phone carefully went to the secretary's table to drop his valuables and then fell flat on his back across the doorway.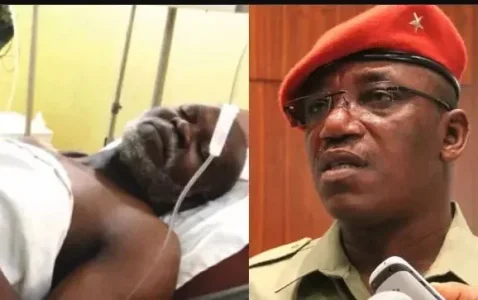 Related: Dalung's Aide Hits World Boxer Bash Ali Till He Collapsed
"Bash Ali was neither touched, shoved nor manhandled by security operatives of the minister. He feigned that he had been beaten up but we challenge him to produce physical evidence of assault, gun butt bumps, and bruises, swelling or otherwise as being presented to the public.
"He has a record of such antics following his despair to defend a world boxing title at over 60.
"In 2013, he alleged that he was beaten up by security operatives of the then Minister of Youth and Sports, Mallam Bolaji Abdullahi.
In 2015, the WBF cruiser weight boxing champion was detained in Kuje prison following an altercation with the MD of a bank over funds for his title fight."
Anibeze described Ali as an attention seeker who would stop at nothing to get funds for a purported World Guinness book of records fight.