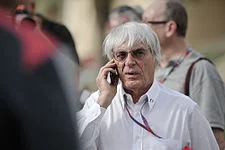 Formula One supremo Bennie Ecclestone is believed to be ready to pay $100million to German court in order to quash a suit instituted against him.
Ecclestone was in April charged with bribery and incitement to breach of trust at Munich state court.
It is understood that the court is expected to assent to the offer from the billionaire.
The 83-year old allegedly paid Gerhard Gribkowsky,a Munich banker 33m euros in order to ensure that the F1 stake was bought by a company he was in support of,so that he would still remain in charge.
Most people have criticised the proviso that would provide for Ecclestone to be able to pay his way out,believing that such only favours the rich.
Photo Credit: Wikipedia