The Justice Kpojime Commission of Enquiry in Makurdi has heard how millions of Naira were taken to Benue State ex-Governor Gabriel Suswam at the Governor's Lodge in Makurdi, from the Ministry of Finance, without following due process. The Nation learnt.
The Government House Accountant, Mrs. Janet Aluga, told the commission that the Permanent Secretary, Ministry of Finance, Mrs. Ruth Ijir, on April 10 called her to go and collect N100 million from a bank for Suswam, which she did.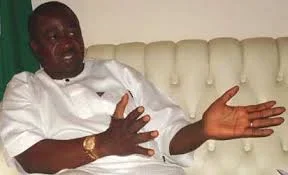 According to The Nation, she said the permanent secretary asked her to deliver the money to the former governor, who stayed in one of the governor's lodges, adding that after she collected the money, she handed it over to Suswam in the presence of the cashier, Peter Ochoga and Emmanuel Aorga, now retired.
Mrs. Aluga explained that usually, after approval of request from the government, monies were taken to the Permanent Secretary, Government House Administration, but in this case, there was a directive from the permanent secretary to give the cash to the governor.