Vanguard Metro report the ordeal of one elder at Christ Apolistic Church, CAC, Mowe in Obafemi Owode Local Government who recently had a close shave with death in the hands of people suspected to be ritual killers as he boarded an inter-state bus at Mowe on Tuesday November 24, 2015, intending to alight at Redeemed Bus-Stop. After paying the N30 fare demanded by the conductor, the bus which picked seven other passengers, sped off...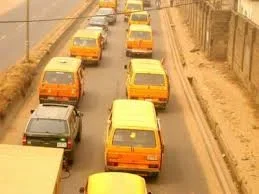 Vanguard investigations show that one-chance operators along the expressway, have adopted new tactics to trap and rob innocent commuters. Some of the unlucky commuters are sold at give-away prices to prospective buyers who in turn, sell them off to ritual killers who slaughter them and sell to occultists and other evil persons.
It was also learnt that the amount paid is negotiable and is dependent on the age and sex of the victims.
Read more on
Vanguard