Eze Nwabueze Soronnadi Ezewiro, a traditional ruler from Mbaise in Imo State, has distanced himself from the struggle for Biafra, describing the agitation as a fraud.
While in Calabar, yesterday, the monarch said:-
"I am His Imperial Majesty Eze Nwabueze Soronnadi Ezewiro from Mbaise in Imo State as well as the Lord Mayor of the Igbo Nation and in Diaspora, Eze Agaba-Idu 1 of Igbo kingdom.
Biafra is a fraud. Whichever way they take it but the truth has to be said anyway, the only institutional body that represents Igbo people all over the world is Ohaneze Ndigbo, not Biafra.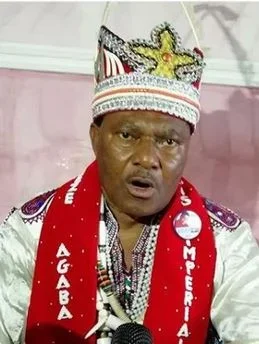 READ MORE HERE