The Indigenous People of Biafra (IPOB) have reacted President Muhammadu Buhari's statements on Biafra in his recent interview with Al Jazeera.
The spokespersons, Emma Mmezu and Dr Clifford Iroanya in a statement issued in Enugu and titled, 'Response to Ohanaeze and Buhari's disparaging remarks about Biafra on Al Jazeera', the group said: "the agitation for Biafra is a long and arduous process and the entire IPOB family all over the world understands this approach as espoused by our detained leader. We have not come to merely agitate, we have come to restore or die in the process. Some people think we are joking or can be easily dissuaded from this divine path that God-Chukwu Okike Abhiama has mandated us to follow".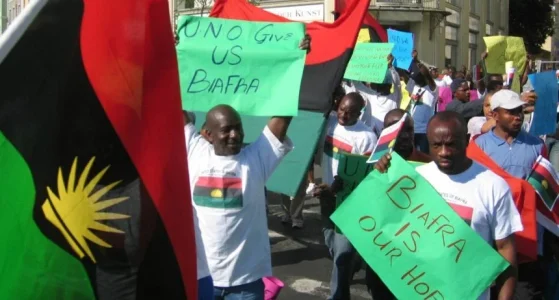 On the issue of Buhari's Al Jazeera interview on Biafra, IPOB leaders said: "we welcome his comments because Biafra would not also tolerate Nigeria. Lord Lugard created Nigeria not Chukwu Okike Abhiama, God Almighty".
So, like USSR, it will collapse. We, the IPOB Worldwide have decided not to go back on the quest for restoration of Biafra. Nigeria is not bigger than USSR just as Buhari is not stronger than Michael Gobachev. Buhari can kill Biafrans as he did during the 1967 to 1970 civil war, but this time, it will not be the same."
-
Vanguard