Another blow was again dealt on the dreaded Boko Haram sect yesterday as troops of 156 Task Force Battalion, 29 Task Force Brigade, assisted by Civilian JTF embarked on a long range patrol aimed at clearing remnants of Boko Haram terrorists at Ngula and Kukuruk villages in Alagarno general area.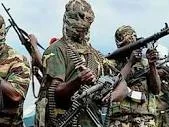 Army Spokesperson, Col. Sani Usman, in a statement said the troops encountered and engaged Boko Haram terrorists in a gun battle.
The patrol team later found out that the area served as the Boko Haram terrorists' administration and harbour area, Field Hospital and Improvised Explosive Devices (IEDs) making factory.
SEE PHOTOS: