Britain formally launches the process for leaving the European Union on Wednesday, a historic step that has divided the country and thrown into question the future of the European project.
Just days after the EU's 60th birthday, Britain will become the first country ever to seek a divorce, striking a blow at the heart of the union forged from the ashes of World War II.
Nine months since the shock referendum vote to leave the EU, Prime Minister Theresa May will trigger Article 50 of the bloc's Lisbon Treaty, meaning Britain is set to leave in 2019.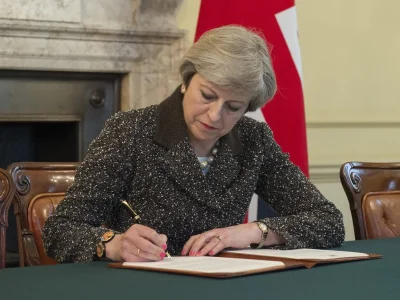 "We must no longer be defined by the votes we cast in the referendum but a determination to make a success of the result," May will tell MPs later Wednesday, according to pre-released extracts of her speech.
"The triggering of Article 50 is the moment for the country to come together," May will say, a day after Scotland's parliament voted in favour of holding a fresh referendum on independence from Britain, in a bid to hold on to EU ties.
May has already signed the Brexit letter to be delivered to EU president Donald Tusk on Wednesday and the two leaders spoke by phone ahead of the momentous event.
AFP