President Muhammadu Buhari and three West African leaders are currently meeting in Abuja in continuation of their discussion on finding lasting solution to Gambia's President, Yahya Jammeh's political stunt.
Those in attendance are the President of Liberia, Ellen Johnson Sirleaf; President of Senegal, Macky Sall; and former President of Ghana, John Mahama.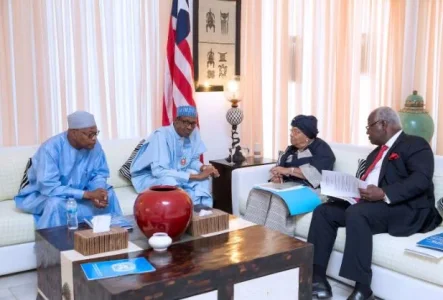 After an informal meeting inside the President's office, the four leaders have moved to the new Banquet Hall of the Presidential Villa, venue of the meeting.
Related:
Jammeh Shuts Down 4th Radio Station As Buhari Meet ECOWAS Leaders In Abuja
- PUNCH