The personal Assistant to President Muhammadu Buhari on Social Media, Lauretta Onochie has disclosed that President Muhammadu Buhari and his Vice, Yemi Osinbajo consult each other before taking decisions.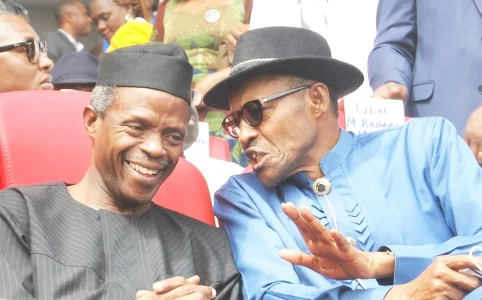 She made the disclosure while reacting to a statement credited to the Publisher of Ovation Magazine saying Osinbajo is doing everything Buhari has failed to do.
In a series of tweets on her twitter handle, @ Laurestar wrote: "EDUCATING DELE MOMODU "Osinbajo is doing what Buhari failed to do"
"With a mindset like this, its sad Dele Momodu is clever by half. If he does not understand "Team", how can he understand "Team Spirit"?
"@MBuhar and @ProfOsinbajo have a great understanding of what it means to be a team. They respect, consult and collaborate with each other
"Dele Momodu is used to d "Leaders behaving badly" ways of leadership where deputies do not dare breathe w/out d permission of d Principal.
"I have no doubt that Dele Momodu runs his Corruption-friendly business empire that way. He decides alone and consults no one.
"Difference between Buhari/Osinbajo & Jonah/ What's his name, admins is not only their stand on corruption. One is a team, the other wasn't
"Nigerians are applauding d cohesive team spirit existing between our leaders, Dele is using it to earn his keep from his corrupt friends
"It's common knowledge that under this admin, all businesses with foundation built on corruption, will collapse. Did I hear a loud OVATION
"As an image maker and a friend of the corrupt who raped our nation, has Dele Momodu asked where his fees are coming from? Stolen funds?"