Following reports of illegal recruitment exercise into the federal civil service, the federal government led by President Muhammadu Buhari has given the nod to the dismissal of five directors at the Pension Transitional Arrangement Directorate (PTAD).
The five directors were sacked with immediate effect.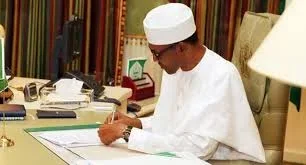 The directors sacked are Godson Ukpevo of the Civil Service Pension Department; Uloma Uruakpa of Custom, Immigration and Prison's Department; Taiwo Ogundipe in charge of Parastatal Department; Atiku Dambatta of Police Pension Department and Roz Ben-Okagbue of Pension Support Services Department.
A source revealed that irregularities were found in the employment of some staff.
"The directors were sacked because their appointments were done in error. The Head of Service of the Federation sent a team which talked to all the staff and examined their credentials and offer of appointments. The report of that team was submitted to the Minister of Finance who then directed the ES to implement the report," the source said.
All five of them were reportedly appointed during the administration of former President, Goodluck Jonathan in contravention to one of the public service rules that has to do with their age as at the time of recruitment.
They were found guilty of employment irregularities after investigation.
Meanwhile, other staff of the parastatal in charge of Nigeria's pension were redeployed to the office of the Accountant-General of the Federation.