Tukur Buratai, chief of army staff, has commuted the death sentence passed on 66 soldiers in January and March 2015, to 10 years imprisonment, theCable report.
Sani Usman, spokesman of the army, announced this in a statement issued on Saturday. About 71 soldiers were arraigned on several charges in the joint trials at the general courts martial.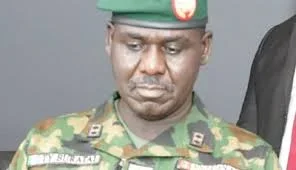 They were arraigned on charges bordering "on criminal conspiracy, conspiracy to commit mutiny, mutiny, attempt to commit an offence (murder), disobedience to particular orders, insubordinate behaviour and false accusation".
The soldiers were tried, discharged on some charges but found guilty and convicted on other charges which included mutiny. Out of the number, 66 were found guilty on some of the count charges and sentenced to death, while five were discharged and acquitted and one was given 28 days imprisonment with hard labour.
read more