Burkina Faso has released a list of 25 players that will take on Nigeria in an international friendly game next week in London.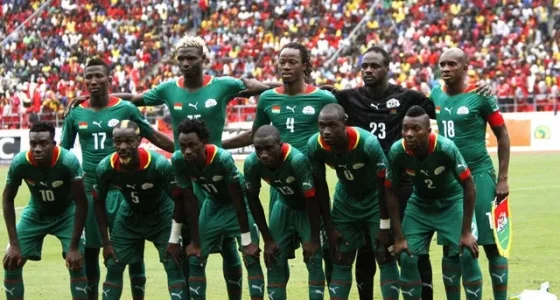 The Stallions squad is mostly comprised of players, who featured in the 2017 Africa Cup of Nations in Gabon, where they finished in third place.
Burkina Faso will play Morocco first on March 24, before facing the Super Eagles March 27.
The matches are part of preparations for their 2019 Africa Cup of Nations qualifier against Mauritania.
FULL SQUAD:
Germain Sanou, Kouakou Hervé Koffi, Aboubacar Sawadogo, Kabore Paterson , Oueraogo Dylan, Paro Issouf, Malo Patrick, Dayo Issoufou, Coulibaly Yacouba, Yago Steeve, Traore Razack, Sare Bakary, Toure Ibrahim, Guira Adama, Kabore Charles, Traore Alain, Yabre Meyker, Stephane Aziz, Bayala Cyrille, Koura Anthony, Prejuc, Nakoulma, Aristide Bance, Traore Bertrand, Banou, Sirima Sina