Chairman of the Code of Conduct Tribunal (CCT), Umar Danladi has asked security to throw out Raphael Oluyede, one of the lawyers of Senate President Bukola Saraki, for talking back at him.
Umar also "threw away" an application by Saraki asking him to withdraw from his trial.
Speaking on the application, the CCT judge said: "This motion filed by a mere busybody legal practitioner is not accepted by this tribunal.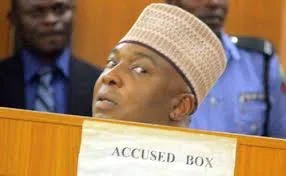 "Members of the inner bar, you are to guide him. How can you allow such a rubbish thing from him?
"This motion is of no consequence. As far as this tribunal is concerned is thrown away."
- theCable