Senator Dino Melaye was the center of attraction this morning when he showed up for Senate plenary wearing an academic gown.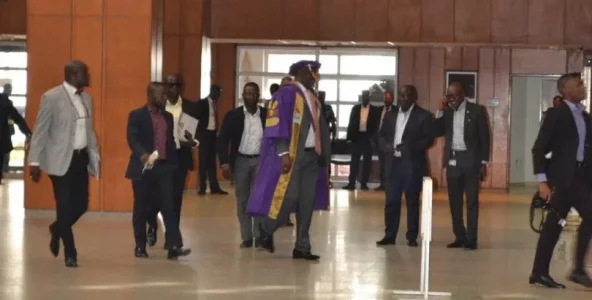 It is unclear whether Senator Melaye wore the gown to further prove that he graduated from a tertiary institution or whether it's a joke. However there are great concerns about the gown.
1. All academic gowns are normally returned to tertiary institutions after graduation. In some cases, the school refunds part of the money paid for the gowns on return.
2. The gown does not match that of Ahmadu Bello University, Zaria , the only school that has so far claimed Melaye. According to Sumner Shagari, TVC correspondent, ABU uses green gowns for undergraduates and red gowns for post graduates.
Where did Melaye get his gown from? Why does he still have it?
READ:
Senator Dino Melaye Wears Academic Gown To Senate Plenary [PHOTOS]