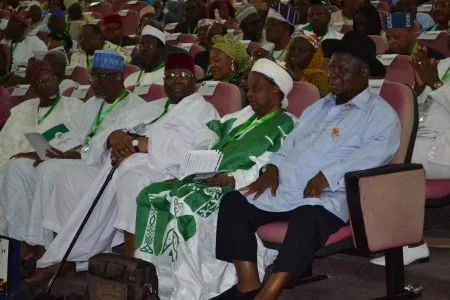 Yoruba delegation at 2014 CONFAB has dissociated itself from the report of Consensus Group on resolving the impasse on derivation issue.
The report, which was presented by Professor Ibrahim Gambari on behalf of the group, in addition to proposing 18 per cent derivation to the oil bearing states, also proposed 5 per cent first line charge for the development of mineral resources and another 5 per cent National Invention Fund in Boko Haram devastated areas in the North East; as well as other areas affected in North Central and North West.
The Yoruba delegates, arising from the caucus meeting, rejected the report stating that the report gave a wrong impression of what the intervention fund was set to achieve. The fund is aimed to serve the collective interest of the country and not a sectional interest as presented by Mr. Gambari.
South West delegates are, however, (of the) view that Mr. Gambari's projection amounts to depletion of the federation account through nebulous funds to promote insurgency in the country. It is also aimed at legalising the impoverishment of non-oil bearing states in South-West, South-East and South-South; as these states neither benefit from derivation nor the so-called intervention fund.
Dr. Kunle Olajide
Secretary
South-West Delegation
2014 National Conference