Minister of Information and Culture, Alhaji Lai Mohammed, disclosed that campaign against corruption would also be unveiled shortly, saying that proceeds from corruption end up in Boko Haram account, Daily Sun reports.
At a meeting with the Broadcasting Organisations of Nigeria (BON) officials in Abuja yesterday, Mohammaed said: the new attitudinal change programme was tagged: "Change begins with me", adding that the National Orientation Agency (NOA), with offices across the 774 local government councils, will drive the campaign.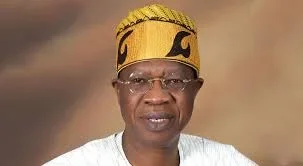 "This war against terror is our war, not the military's war'', he stated, charging them to assist government in disseminating security awareness campaign messages to the nooks and crannies of the country.
The minister said the essence of the campaign was to educate Nigerians on the need to support the military which, according to him, had availed itself creditably in the battle.
It was also aimed at alerting the citizenry to the need to be more security conscious, to be able to identify Improvised Explosive Devices (IEDs), the weapon of choice being deployed by the cowards.
Mohammed explained that the messages will be produced in various indigenous languages to make them more potent.
Daily Sun