A Bahraini court on Thursday sentenced a Shiite member to death and jailed 22 others for life for forming a "terrorist group" that killed two people, including a policeman.
It is the second such ruling this week in the tiny Sunni-ruled Gulf kingdom, where members of the Shiite majority population have led an uprising.
The court also revoked the citizenships of the 23 convicts and fined two of them 200,000 dinars ($530,000/480,000 euros), terror crime prosecution chief Ahmed al-Hammadi said in a statement.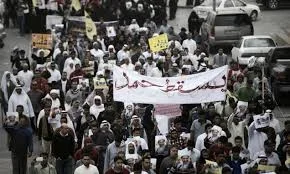 Judicial sources said that all the defendants were Shiite and that 16 were tried in absentia, without giving further details.
Hammadi said members of the group were convicted of carrying out bombings in two Shiite villages in early December last year.
One of the bombings in Damistan village killed a Jordanian policeman who was working in the Gulf kingdom under a security and training exchange agreement.
The second bombing took place the next day in the nearby village of Karzakan, killing an elderly Bahraini man.
- France24