Eleven members of the All Prohgressives Congress at the lower chamber of the National Assembly have dragged Speaker Yakubu Dogara and the Clerk, Mr. Mohammed Sani-Omolori to an Abuja Federal High Court seeking that the court "declares the new Standing Orders as null and void as well as unconstitutional, as they contravene the constitution."
The 11 lawmakers are opposing a new provision placing a ban on the snatching of the mace, the symbol of legislative authority, by any member for whatever reasons.
Under the new provisions passed by the House on October 8, 2015, any member approaching the mace for any reason can earn suspension from legislative activities for 6 months or for as long as may be determined by the Speaker.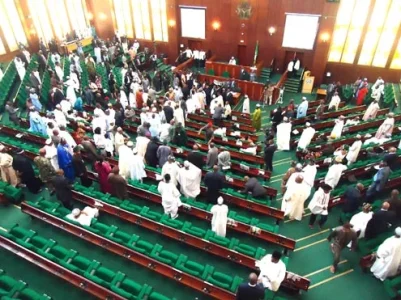 The 11 lawmakers include Ali Madaki(APC, Kano); Mohammed Musa-Soba (APC, Kaduna); Yusuf Bala-Ikara (APC, Kaduna); Abubakar Lado-Suleja (APC, Niger); Lawal Yahaya-Gumau (APC, Bauchi); Rotimi Agunsoye (APC, Lagos); Aminu Ibrahim-Malle (APC, Taraba); Sunday Adepoju (APC, Oyo); Ahmed Babba-Kaita (APC, Katsina); Philip Shuaibu (APC, Edo); and Abubakar Chika-Adamu (APC, Niger).
They also prayed the court to declare as "repressive, susceptible to abuse and breaches" of their constitutional rights, the powers granted Dogara to present any proposal for the suspension of any member.
-DailySun