2 Weeks after US President, Donald Trump signed an executive order banning muslims from 7 muslim majority countries – an action that is currently in the middle of tense legal battle – he has signed three new executive orders aimed at targeting drug cartels, creating a task force to reduce crime and stopping crimes against law enforcement officers. The move came after Jeff Sessions was sworn in as attorney general.
In his first act as head of the Department of Justice, Sessions presented the three executive orders to Trump.
"I'm signing three executive actions today designed to restore safety in America," Trump said. "Very important. All very important."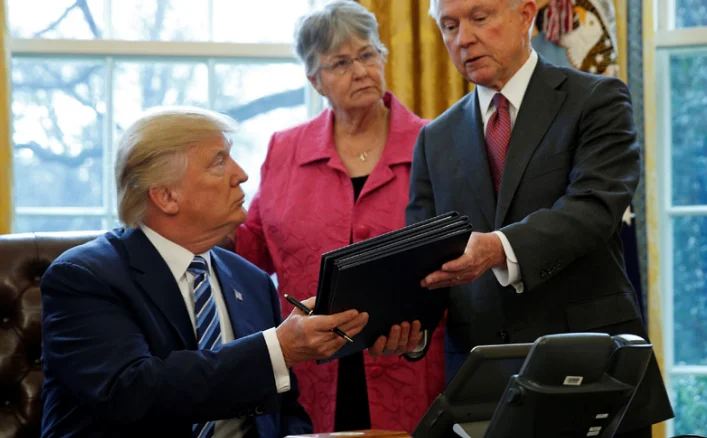 During the swearing-in ceremony, Sessions said rising crime was a "dangerous, permanent trend" in the US and promised to "end this lawlessness" of illegal immigration.
The White House did not provide copies of the executive orders, nor was there any explanation given regarding what they would do. Trump only listed their titles: "Enforcing federal law with respect to the transnational criminal organizations and preventing international trafficking," "Task force on crime reduction and public safety" and "Preventing violence against federal, state, tribal and local law enforcement officials."