Ishaku Habiba, an 18 year old girl caused uproar Wednesday,at a Katsina High Court when she disowned her parents. Habiba had last year eloped and converted from Christianity to Islam to get married to one Jamilu Lawal without her parents' consent.
At the court sitting yesterday, according to Daily Post, Habiba dissociated herself from a suit allegedly filed on her behalf by Trustees of Stefanos Foundation and the Evangelical Church Winning All, ECWA over her conversion to Islam.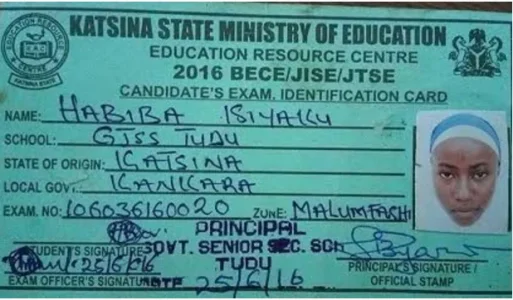 Habiba's ID card. Photo: DailyPost
This was after her father, Mr. Ishaku Tanko and the representatives of ECWA and the foundation claimed that Habiba is underage.
Habiba, now of Kankara Local Government Area of the state, presented a letter to the chief judge, Justice Baraka Iliyasu-Wali, insisting she was 18 and not 14 years, as being alleged.
But the counsel to the plaintiff, Mr. Bawa Yakubu, urged the court to disregard the letter as it was written in Hausa language and should not be admitted as a document before the court.
In response, the defense counsel, Mr. Abu Umar, argued that since the letter translated in English language, it can stand as concrete document before the court.
In Umar's words, "Even if she is a minor as argued by the defense, there is no law that prevents a minor from expressing his or her views according to the Nigerian Constitution."
In his judgment, Justice Iliyasu-Wali ruled that there would be need for Habiba to ultimately confirm or deny authorship of the letter. He adjourned the matter till January 25 for hearing.