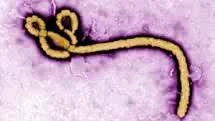 Experts on Ebola Virus Disease (EVD), have again reiterated that there is no specific cure for the disease at the moment, but explained that suspected cases with early detection when treated stands a fifty percent chance of recovering from the illness.
They also confirmed that over 40% of the victims of Ebola have been treated and recovered, and have been discharged to go back to their duties; urging Nigerians not to stigmatise them as they cannot test positive to the virus again.
This was said by the Deputy Incident Manager, Ebola Outbreak Centre, Dr. Kayode Oguntimehin at a workshop organised for the media on the recent outbreak of EVD in Nigeria and West Africa.
No fewer than One-thousand lives have been lost in the West African region since Ebola broke out, and about nineteen cases have been recorded, including the Liberian diplomat, Patrick Sawyer that brought the disease to Nigeria.
Dr. Oguntimehin said that Ebola is a viral infection which has no particular vaccine for cure; but explained that the few people that have been cured of the disease were only treated, and their immune systems were allowed to fight for survival.
"Ebola is a viral infection that can be treated like any other viral infections. As of now, we don't have a particular vaccine to cure Ebola, but when we treat the patients, we allow their body immune systems to fight back for their survival and with that we already have six cases of Ebola cured and discharged from the isolation centres." Dr. Oguntimehin
He further explained "Isolation is when we keep suspected cases in a special facility between Ebola's incubation period of 2-21 days to confirm if the case turns out positive or negative."
"We have been following about 365 suspected cases in the past weeks, and out of those 365, there are eleven remaining under surveillance and 10 will be released in a couple of days- living us with 1 suspected case that we are still watching to see how it will turn out."
Meanwhile, a representative of the World Health Organisation, Dr. Gaya Gamhewage commended the efforts of the Federal Government and the Airport authority for the Points of Entry (POE) screenings of everyone that comes into the country.
She said with that and the questionnaire, it will help health workers to detect cases and can be treated early.
"More than 40% of the confirmed cases have been treated and are safe to go back to their houses, free to relate with others as they are safe to be with". Dr. Gaya said that the media conference
"Nigerian government has detectors at the Airport to screen travelers arriving into the country and also ask them to fill a questionnaire to ensure that they are free of Ebola symptoms.
Last edited by a moderator: