The 2015 financial results of the five banks released in March this year showed that the profit before tax tumbled by 69 per cent to N77.65bn from N131.19bn in 2014.
The Declined was a result of bad loans, naira volatility and other economic headwinds with N53.54bn fall in profit which many of the banks' chief executive officers attributed to high impairment charges on bad loans, foreign exchange volatility and other challenges facing the economy following the significant drop in the nation's oil revenue due to the sharp fall in oil prices.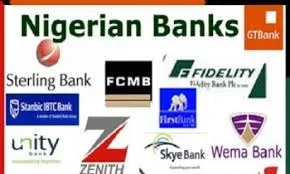 Here are the banks:
Ecobank International Incorporated,
Union Bank Plc,
First City Monument Bank Limited,
Wema Bank Plc and
Fidelity Bank Plc
The annual financial statements of the banks posted on the website of the Nigerian Stock Exchange showed a combined 80 per cent decline in their annual profits.
- PUNCH