The Economic and Financial Crimes Commission, EFCC, on Wednesday, June 4, 2014 arraigned a suspected romance scammer: Omokoh Orowo Jesse before Justice R.B Akintola of the Oyo State High Court, Ibadan, on a 9-count charge bordering on conspiracy and obtaining money by false pretence.
Specifically, Jesse allegedly fleeced an Australian lady, Jette Jacobs of the sum of $90,000 (Ninety Thousand United States Dollars) in a romance scam that went awry. He reportedly met Jesse in an online dating site and contrived a relationship with her. Reports showed that Jette travelled to Johannesburg, South Africa in November 2012. Jesse left Nigeria to meet her on February 4, 2013. Five days later, Jette was found dead in her apartment.
Jesse returned to Nigeria two days after the discovery of the body of his supposed lover in her South- African apartment.
All the nine charges were read to Jesse and he pleaded not guilty.
Count one of the charge reads: "Omokoh Orowo Jesse, Ifeanyi Oro (still at large), Emojewe (still at large) and David (still at large) sometime in 2012 at Ibadan within the Ibadan Judicial Division with intent to defraud conspired to obtain the sum of $70,000 (Seventy Thousand Dollars) from one Jette Jacobs, a 67-year-old Australian woman under the false pretence that the money represents payment for marriage engagement processes between you and her in Nigeria and which pretence you knew was false".
In view of Jesse's plea, EFCC Counsel, Zainab Ettu prayed the court for a trial date and for the remand of the accused person in prison custody. However, counsel to the accused person, Tunji Ogunude informed the court that he had filed an application for bail and sued for bail on liberal terms for his client.
Justice Akintola after listening to both counsel, adjourned the case till July 10, 2014 for hearing of bail application and ordered that the defendant be remanded in Agodi prison.
Media & Publicity
4th June, 2014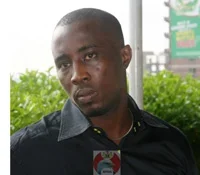 Source: #EFCC Nigeria
Last edited by a moderator: